Kim Kardashian & Kanye West May Be Headed for Splitsville Already
Posted December 3, 2012 by djentice in
News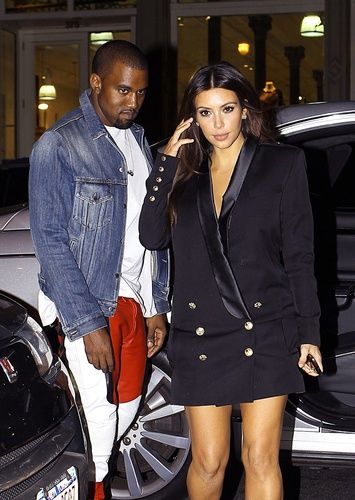 According to people who say things on the Internet,Kim Kardashian and Kanye West are already "cooling things off." I know. Apparently, the couple who eats fro-yo in leather together does not stay together. Despite each featuring the other one in their songs, TV shows, tweets, and interviews, rumors abound that the pair are drifting apart.
According to I'm Not Obsessed: "Friends
 are wondering if things are cooling off between Kim and Kanye West, who appeared in her life just in time to take the attention away from her disastrous marriage and divorce with Kris Humphries. While Kim is in Miami, Kanye has been living it up at Paris fashion week" … Another source tells us that things between Kanye and Kim are "cooling off' because "he's gettingtired of the constant press and promotion. He's not as tight with her as he was."
Okay, you had me up until Kanye's "getting tired
 of the constant press," I'm Not Obsessed. But, guys, if this is true — we have a big problem.
What's going to happen to Mercy?! You know, the adorable teacup Persian kitten Kanye bought Kim? Furry friend
 to Mason Disick? Beloved Internet sensation? Is he (she?) going to have to grow up in a broken home now, because the two can't work
 things out? What's next? Turning her (him?) into a latchkey kitty?!
For Mercy's sake, I really hope Kim and Kanye can work out their differences. I mean, the stakes are much higher when there's a kitten involved. They need to put in that much more effort. They need to think about him (her?). When you get a teacup Persian kitty, your needs go to the backburner. Sorry, guys, welcome to kittenhood.
The one thing we have going for us is the fact that not a day goes by without a new piece of Kimye gossip popping up. So maybe this isn't true. If it is, though, I will be shocked. Their relationship didn't seem like a publicity stunt at all.
Would you be surprised if Kim and Kanye are cooling things off already?
story via cafemom.com
Image via Splash